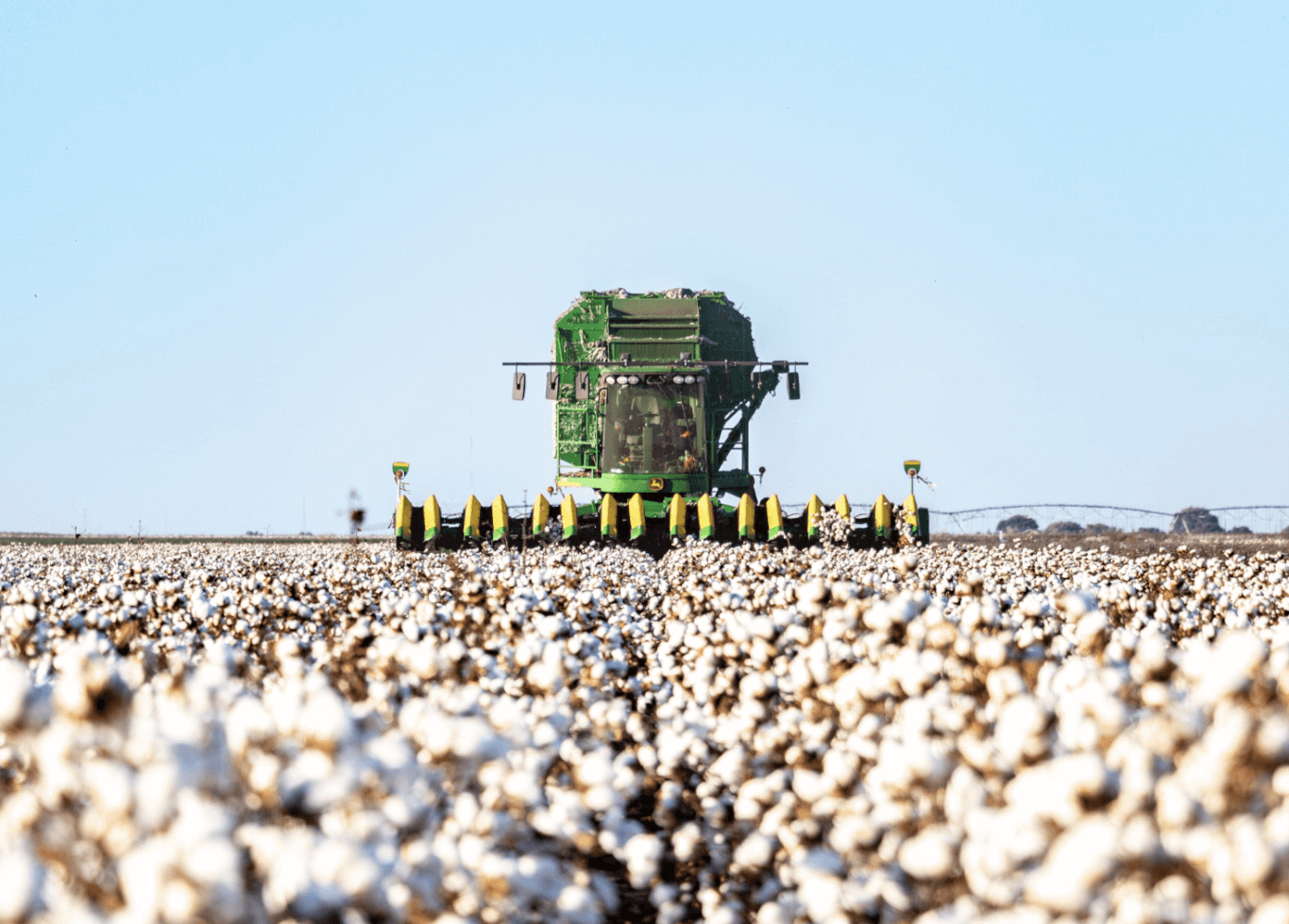 Agriculture
On the Llano Estacado, the warm climate is complimented by sandy, well-drained soil, an average of 265 days of sunshine and cool night temperatures. While pioneers noticed the expansive horizon and elusive ground water, they took to the soil and yielded one of the leading agricultural regions of the world. A city founded upon its agriculture industry, today the sector remains the backbone on the local economy through agricultural manufacturing, distribution and farming.
As they say, cotton is king in the Southern Plains, which stands to reason as the Lubbock area accounts for nearly ¼ of the nation's cotton production. When you think of wine grapes, West Texas might not come to mind, but it should. The region known as the Texas High Plains American Viticultural Area accounts for 90% of Texas' grape production. Home to all four varieties of peanuts, the Southern Plains is the hub for America's favorite pastime snack as well. And, from beef cattle to dairy cows and pigs to poultry and sheep, the region's livestock operation grazes on approximately 37,000 square miles of terrain. This commodity is a crucial component of the agricultural industry here on the Southern Plains.
As the epicenter for food, fiber and fuel, the region is the perfect home for agricultural input businesses such as tractor companies, chemical producers and service providers for farmers and ranchers in the area. Not to mention, as a global agricultural hub, companies benefit from the connection to faculty and research conducted at the College of Agricultural Sciences and Natural Resources at Texas Tech University.
With a business-friendly climate and people who know how to produce sustainable, high quality agricultural commodities, food engineering, manufacturing, and production companies find Lubbock is the ideal place to grow.
Monsanto
Monsanto works alongside farmers selling seeds, traits developed through biotechnology and crop protection chemicals to increase crop yields and reduce resources such as land, water and energy by one-third per unit produced.
Lummus Corporation
Lummus Corporation, the largest manufacturer of cotton ginning machinery in the world, will soon complete construction on their world parts manufacturing headquarters.
Continental Dairy
Located 35 miles west of Lubbock's city limits, Continental Dairy Facilities Southwest, LLC, a milk manufacturing facility which began production of grade A, gold star-quality milk products in 2019, supports the West Texas dairy industry by supplying the world with milk and cream products including cream, butter, powdered milk, non-fat dry milk, buttermilk, and skim milk.