Moving from Utah to Lubbock, Texas
Hello Lubbock! Allow me to introduce myself – I am McKenna Dowdle. I was recently hired to the Market Lubbock Team and I couldn't be more excited. But, something interesting about me is that I moved from Utah! My husband, Travis, starts medical school at Texas Tech University Health Sciences Center and we are ecstatic to be here in the 806. To catch you up, I will highlight our moving adventures and the dos and don'ts of planning a move to Lubbock.
Here we go!
A year ago, Travis received a phone call accepting him to Texas Tech. We were thrilled! Immediately I Google'd Lubbock, Texas and the first thing that popped up was Visit Lubbock's website. After learning almost everything I could about the "Hub City", I began making a list of everything we needed to do before we moved. The first item on the list: find a job.
As a senior in college, looking for a job is on everybody's to-do list. I updated my Linkedin profile religiously and checked all of the job boards repeatedly. Looking for a job can be stressful, but it doesn't need to be.
A great resource I have found is the Lubbock Economic Development Alliance job page. Lists of major private and public employers, a complete record of businesses, and links to open jobs are included on this page. They practically do the work for you! If you are in the market for a new job, check out this page. It is a great resource while on the job hunt.
After weeks of applying to jobs, I found myself back at the Visit Lubbock website. My degree is in public relations, and working here seemed like a dream job. I couldn't find a job advertisement, so I decided to reach out on their contact page. Low and behold, they were about to post an open position within my desired field!
I would strongly encourage anyone who has an idea of where they would like to work to reach out to that business or organization. I didn't realize this before, but showing an initial interest is a great idea and a great way to build relationships. I am lucky that it worked out so well! The next thing on the list: finding an apartment.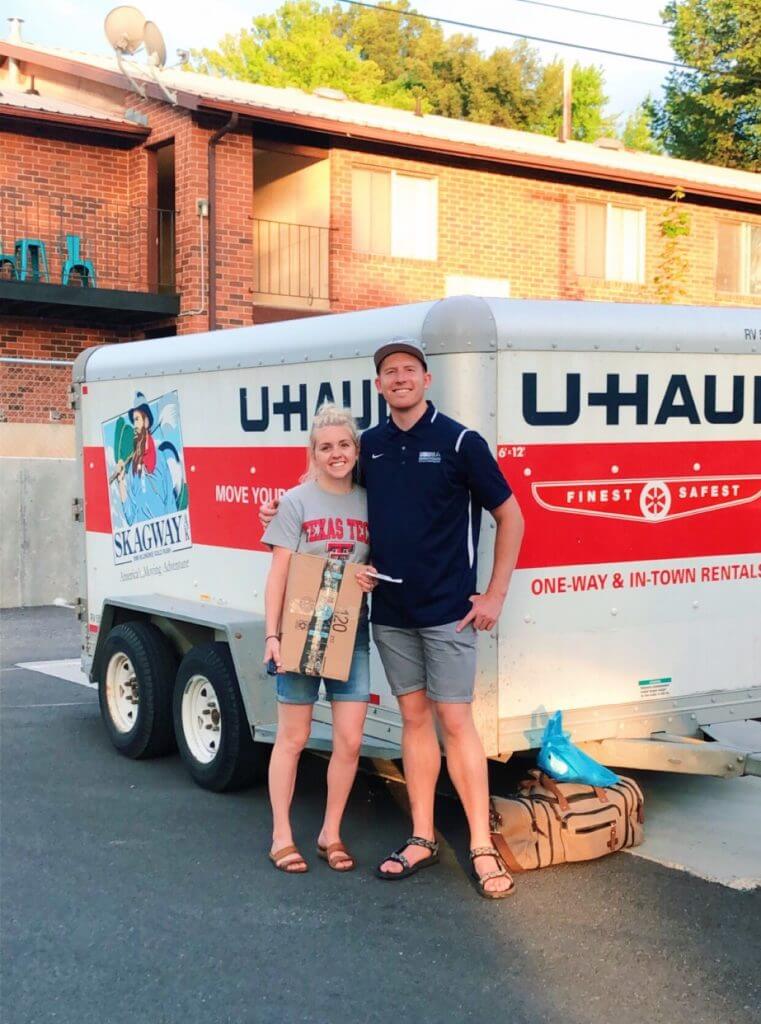 Moving to a new city can be intimidating. As I continued preparing for the big move, the thought of finding an apartment was overwhelming. Luckily, there are great resources to assist in the hunt that eased my worries. Whether you are moving across town or across the country, local websites are a great place to start.
My husband and I had to ask ourselves which comes first, the apartment or the job? It was an awkward balance between finding a position with a start date that correlated with a move-in date, or vice versa. Naturally, we began with the one we didn't have much control over. Once we knew a solid date, it was much easier to find a place to live.
Since I didn't live close to Lubbock, I relied heavily on the internet. Initially, LEDA's website provided me great information on the cost of living and other demographics about the city. I was able to set realistic expectations on pricing early and learn more about the logistics of where we are moving. Visit Lubbock gave great insight on where certain businesses and attractions are that we might want to live close to. I am very happy to say (but my husband might not be…) that we are fairly close to great shopping!
Some other valuable websites I used when looking for housing are Lubbock Apartments, Facebook Marketplace, Apartment Guide, Rentler, and Zillow. I cannot say enough good things about how convenient it was to find affordable housing in Lubbock. I was surprised by the ease and efficiency within the market here. If we wanted to rent an apartment, rent a house, or buy a newly-built starter home, the option was there.
I quickly discovered that we hit the jackpot in places to live. The cost of living is so affordable in Lubbock, especially for a newly-married college graduate and medical school student. The lower-priced rent and mortgages accompanied by the opportunities available make Lubbock a great place for anyone at any stage of life.