Continental Dairy Facilities Southwest, LLC
How It's Made in the LBK
Located 35 miles west of Lubbock's city limits, Continental Dairy Facilities Southwest, LLC, a milk manufacturing facility which began production of grade A, gold star-quality milk products in 2019, supports the West Texas dairy industry by supplying the world with milk and cream products including cream, butter, powdered milk, non-fat dry milk, buttermilk, and skim milk.
In conjunction with Select Milk Producers, the Continental Dairy produces over 300,000 pounds of nonfat and skim milk per day to export to our neighbors in Canada, and, Mexico, as well as China, Japan, Vietnam, Malaysia, and Thailand.
The Process
Supplied by the region's dairy farms, which produce millions of gallons of milk daily, Continental Dairy receives milk from an average of 85 tankers each day from dairies across Texas, Oklahoma, Kansas, and New Mexico. It is then separated to be pasteurized and processed for human consumption. The size and processing capabilities for this site are staggering.
This facility handles around 4.2 million lbs. per day and processes approximately 230,000 pounds of milk per hour. All milk received is sampled and tested to ensure quality standards are met. Milk is then transferred to one of the facility's 100,000-gallon silos.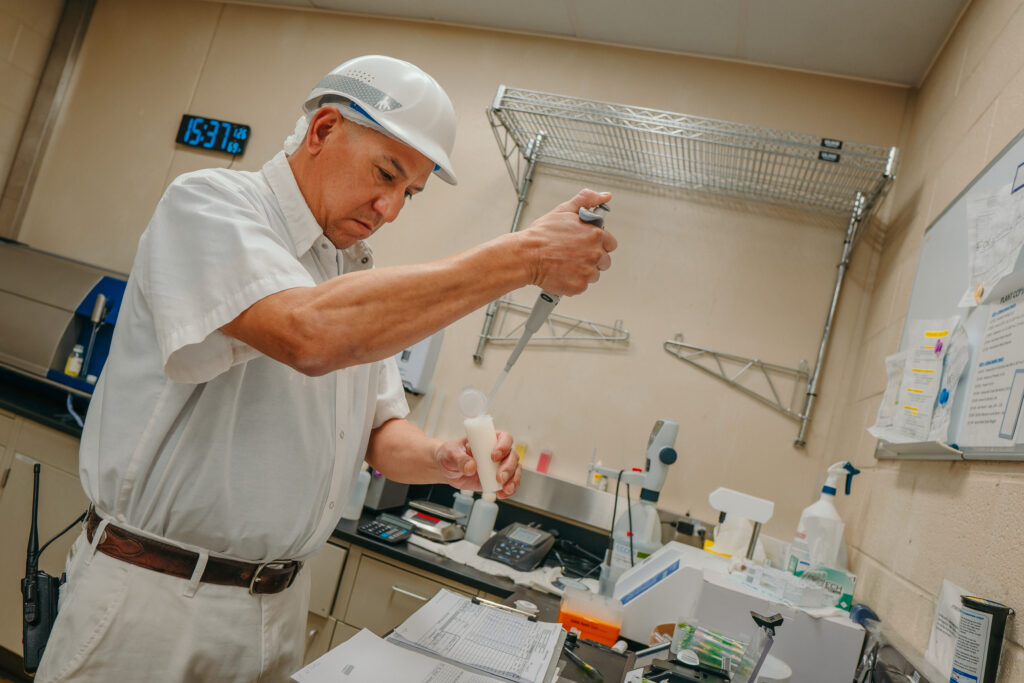 From the silos the milk is routed to a milk separator where it is fractionated into cream and skim milk. Based on commodities pricing, the cream can be sold to other processing companies or churned onsite to create retail butter sticks or large bulk butter. The skim milk is sent to the evaporator to be concentrated and dried and is then packaged to be sent to both domestic and international customers.
When a 50,000-pound tanker is separated only 20% of its contents is milk and the rest is water. Once extracted, the water is sent to an on-site wastewater facility where approximately 70% is recycled. In an effort to maintain sustainability and corporate environmental responsibility, the water is used in the facility's pre-wash steps and chemical makeup. The rest is sent to local ponds to irrigate the approximately 2,500 acres surrounding the facility which produces sorghum, alfalfa, and cotton. The production process then comes full circle as those acres provide feed for the dairy cows in the area.
Company Culture & Hiring Process
Since its inception, Continental Dairy's team has grown to 150 people. With a company culture that both employees and leaders define as "we treat people the way we want to be treated", most employees work a 2-2-3 schedule which allows them to have a three-day weekend every other week and promotes a good work-life balance. On an annual basis, this schedule equates to only working six months out of the year. This schedule prioritizes the employees and aligns with the company's family-oriented culture.
HR Manager, Santana Manzanares stated, "We try to hire the right people, train them to grow and succeed with the company, and treat everyone fairly. We are successful because we place our trust and faith into our employees and their ability to maintain quality standards and treat each other like family." The company maintains this culture by providing leadership training for its managers, supervisors, and foremen, as well as conducting a thoughtful hiring process.
New employees are required to go through a 90-day probationary period where managers and leaders ensure that they are a good fit for the job and the company's culture. Lawrence Sosa, Plant Manager says, "We are here to train people to do the job, not set them up to fail. If a person is ready to learn, dedicated, and reliable, they will succeed at Continental Dairy." Leadership also expressed how important food safety is and they all frequently remind employees to exceed standards because they are feeding families around the world as well as our own families in our West Texas communities.
Continental Dairy offers their employees a robust benefits package that includes, paid personal time, vacation time, free life insurance for the employee, their spouse, and child, a 6% match on their 401k contributions, as well as medical coverage costing no more than $500 a month. With the lowest wage being over $17 an hour and highest being over $30 an hour, Continental Dairy prioritizes employees and wants to make their facility a place where they will want to stay and grow. Leadership places a strong emphasis on hiring from within and gives employees the opportunity to solidify their future at the plant.
Plant Superintendent, Will Wright said, "The dairy industry is strong and full of opportunity."
Wright previously worked in the oilfield but says he is so thankful for the time this job has given him so he can be home with his family. He wants others to know that this industry provides opportunity to support your family financially.
"Continental Dairy can be summed up as a great place to work. Every job is important, every step in the process is important, and the conduct of each one of the employees all ties into the company's success," he said.
If you are interested in a career at Continental Dairy Facilities Southwest, LLC. Visit www.lubbockeda.org/jobs/ or go to our Instagram @lubbockeda to get an inside look into the industry and the jobs available.