Signature Stag
Natalie Huey, a Lubbock native and Texas Tech Alumni, aimed to fill a niche that needed attention and bring something unique to the world of men's fashion. With her passion, determination and her grandfather's entrepreneurial wisdom, she created Signature Stag, a store that changed how men shop for clothing and accessories.
In 2013, Natalie was living in Midland, Texas, a city known for its high income per capita and a notable disparity in the male-to-female ratio. Natalie recognized that while there were plenty of women's boutiques, there were no stores catering to men. Her grandfather's advice echoed in her mind: "Don't just start something because it's a great idea or it's your interest; take a risk and go fill a niche."
Before starting Signature Stag, Natalie had worked in financial services, specializing in business owners. Her clients often complained of the lack of quality men's clothing stores in the area, with many having to travel to buy nice clothes. That's when the light bulb moment occurred: she knew there was a niche to be filled in West Texas.
As Natalie started planning her store, she aimed to not only fill the niche but to create an entirely different shopping experience for men, one that felt like stepping into a man cave rather than a traditional store.
Therefore, in 2013, Natalie opened Signature Stag, a destination where men could relax, socialize and find clothing that matched their unique styles, interests and budgets. It is a place where they can enjoy a complimentary bar, get their shoes shined and catch up on sports while browsing.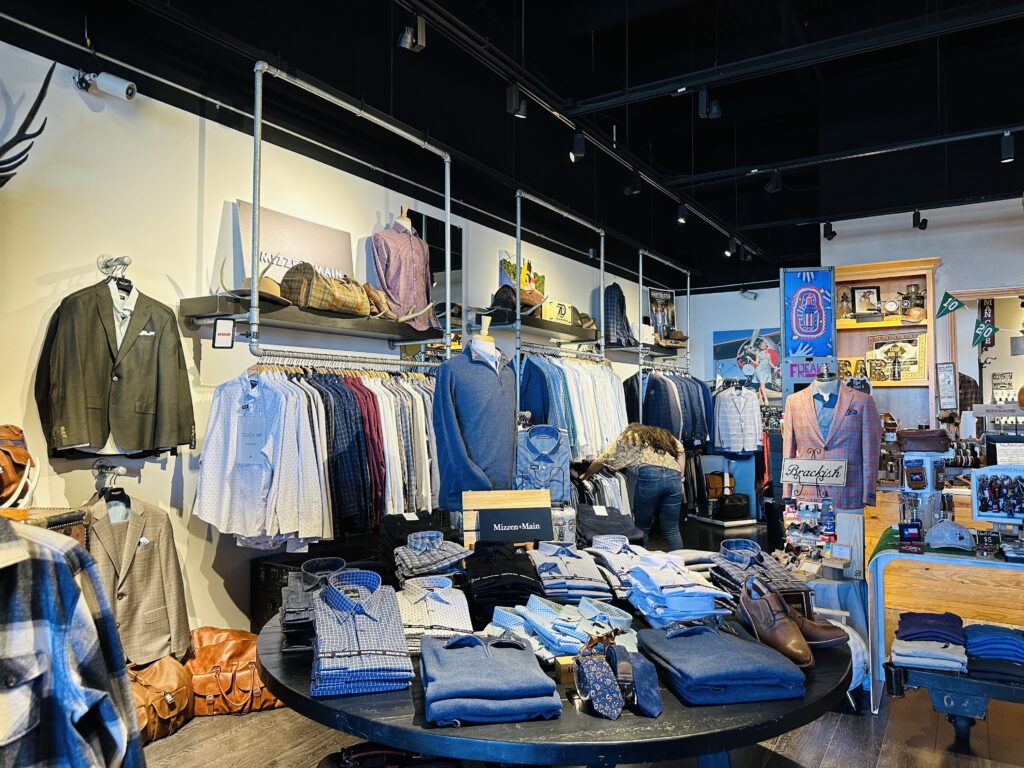 Then in 2017, Natalie longed to return to her family in Lubbock, Texas, and decided to expand Signature Stag. She was immediately greeted with the support of the Lubbock community and soon received an award for "Best Men's Store" and then again the following year. Signature Stag quickly became known for its one-of-a-kind experience, offering everything from casual collegiate wear to elegant tuxedo rentals.
What sets Signature Stag apart are their unique designs, including three distinctive logos: the Texas Hand, the Crossed Guns and the Mustache. Natalie personally designs the collegiate polos, ensuring that each piece is one of a kind. With limited-size runs, customers won't find themselves wearing the same shirt as everyone else. As a result, Signature Stag quickly became a go-to destination for game-day gear, as they offer high-quality fabrics that keep fans comfortable during hot football games.
But Natalie didn't stop at catering to men. She also offers a selection of gameday gear for women and children, ensuring that the whole family can enjoy the Signature Stag experience.
Signature Stag, with Natalie Huey at the helm, not only filled a niche but redefined the men's shopping experience. She proved that starting a business required taking a risk, but with dedication and a unique vision, it could become a rewarding venture. According to Natalie, Lubbock, Texas, was the perfect place to do it, thanks to its community-oriented culture and unwavering support for local businesses.
To learn more about local businesses in Lubbock, Texas, follow @lubbockeda on all platforms, and check out our blog page here.