Lubbock Ranked Top 10 for Economic Growth Potential
in Mid-Sized Metros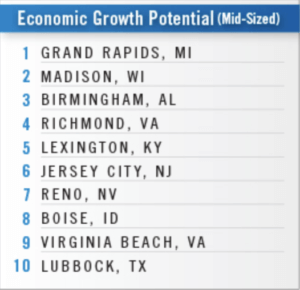 Business Facilities annual metro rankings report was recently released and the results were favorable for the "Hub City!" With a population of over 250,000 and a workforce growing at the same rate as jobs are created, Lubbock ranked among the Top 10 mid-sized metros in economic growth potential.
When analyzing mid-sized metro cities, Business Facilities considered many weighted factors including population growth, diversity of growth sectors, support for startups and economic development strategy. The findings resulted in Lubbock being an optimal location for both start-up businesses and companies looking to expand or relocate.
Lubbock's high economic growth potential is also found in being the "Hub City." With an accessible location to an interstate and four major highways, multiple rail lines located at Lubbock's Rail Port, an active Lubbock Business Park and an international airport, Lubbock's ease of access is appealing to incoming businesses. It also puts Lubbock at an advantage as being a top supporter for business!
As job industries continue to thrive, Lubbock is continuing to prove to be an attractive job market. By the end of this year, there will be a total of 375 new jobs created. With an increase of positions available in various industries, Lubbock is welcoming a cohort of talented professionals. Popular industries found in the "Hub City" range from healthcare, education and agriculture to technology and retail services. Our diverse economy fosters a diverse workforce.
From our exceptional business climate to our continuous growth, Lubbock has a booming job force. Our growing economy promotes Lubbock as the ideal destination for businesses. If you are looking for a premier destination to make your next move, don't pass up on the "Hub City!"