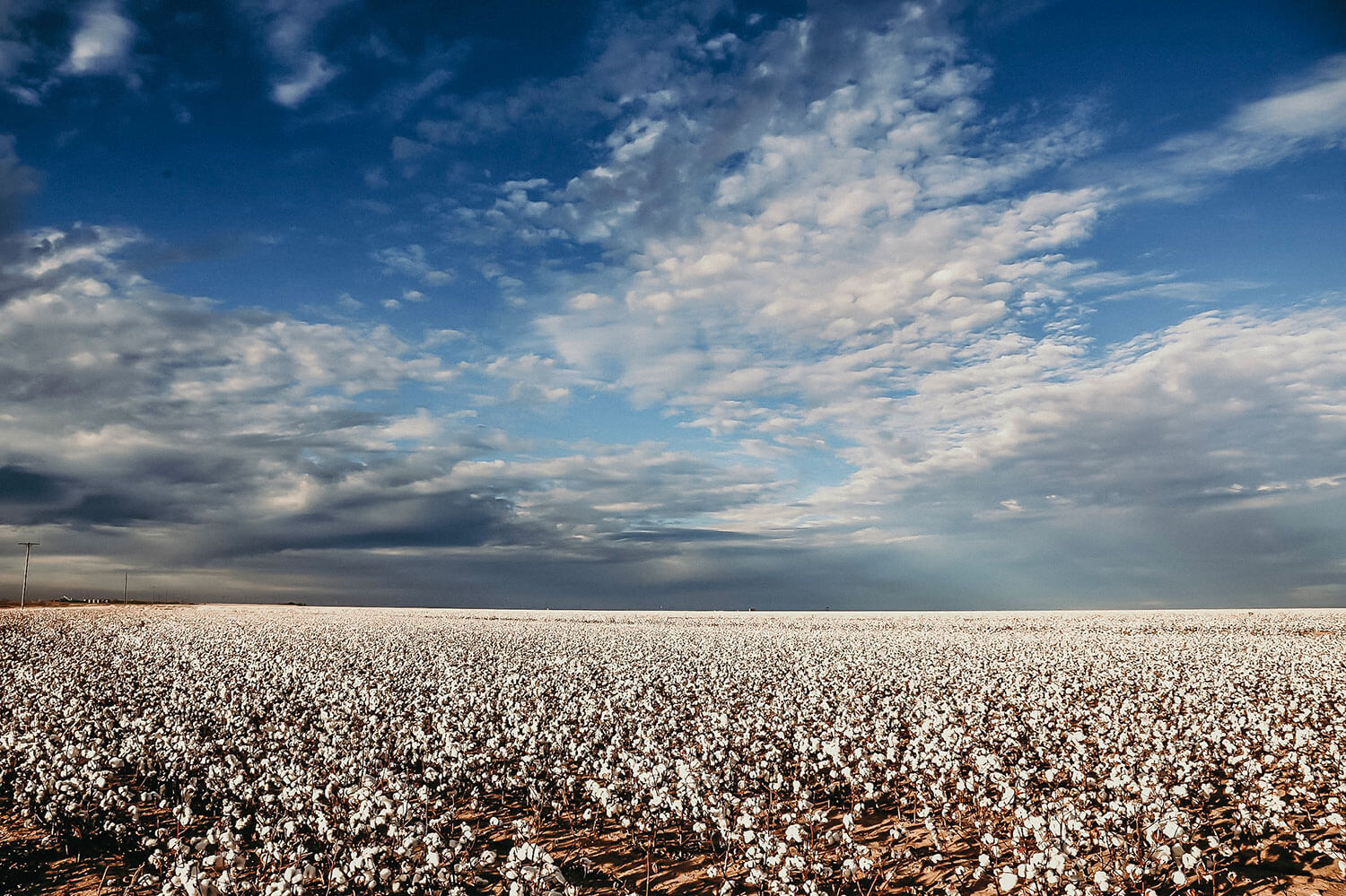 Grown on the Llano Estacado
Here on the Llano Estacado, known to early explorers as the Staked Plains, the warm climate is complimented by sandy, well-drained soil, an average of 265 days of sunshine and cool night temperatures. While pioneers noticed the expansive horizon and elusive ground water, they took to the soil and yielded one of the leading agricultural regions of the world. From food to fiber, here is the lineup of the region's agricultural commodities.
As they say, cotton is king in the Southern Plains, which stands to reason as it is the number one cash crop for the region. On average, the area produces four million bales each year accounting for one fourth of the nation's crop and 4% of the world's cotton. Among the fabric of the cotton industry, the crop provides use for consumption as well as fashion as cottonseed oil is often used for cooking.
When you think of wine grapes, West Texas might not come to mind but it should. The region known as the Texas High Plains American Viticultural Area spans approximately 8 million areas and accounts for 90% of Texas' grape production. With a semi-arid climate similar to central Spain and the southern region of France, the conditions are ideal for growing varieties such as Montepulciano, Tempranillo, Sangiovese and Albarino, to name a few.
Home to all four varieties of peanuts, the Southern Plains is the hub for America's favorite pastime snack. The four varieties include the designated cocktail nut called Virginia, which are great for processing salty confections and in-shell roasting. Another varietal common in the area is the Runner, known for its uniform kernels and optimum use for creating peanut butter. The Spanish varietal is small with a skin tinted red-brown and is often used in peanut candies, peanut snacks as well as peanut butter. These kernels boast high oil content which is ideal for extracting oil. And, rounding out the bases is the Valencia peanut which is served roasted, in-shell or boil, and is most often found satisfying baseball aficionados.
As you've heard, food is fuel. This mantra is evidenced by the 4,200 different uses of corn. As a food source for livestock, a component of fuel, an element of fiber and a factor of medicine, corn fuels the agriculture, health care and the oil and gas industries. While the primary use for corn grown in this region is for livestock, we can't help but praise the crop that makes chips and guac possible.
While corn grown in some regions is also used to make whiskey, sorghum is another popular crop to cheers to as a key component of China's traditional saki. Known as a less water intensive grain, Sorghum is grown in smaller communities of the Southern Plains such as Floydada and used as a component of livestock feed.
From beef cattle to dairy cows and pigs to poultry and sheep, the Llano Estacado livestock operation grazes on approximately 37,000 square miles of terrain. As a major resource for a variety of uses including feeding West Texans, the legacy of growing livestock is as deeply rooted as the crops that feed them.
As mentioned, livestock is a crucial component of the agricultural industry here on the Southern Plains. It comes as no surprise another crop of the region, wheat, serves as feed for these animals. Between summer crops, wheat is also used in the area to preserve the soil and maintain consistency for future seasons.
With many crops grown here it makes perfect sense that the Southern Plains also is home to a number of agricultural input businesses such as tractor companies, chemical producers and service providers for farmers and ranchers in the area. Not to mention, as a global agricultural hub, it comes as no surprise that companies benefit from the connection to faculty and research conducted at the College of Agricultural Sciences and Natural Resources at Texas Tech University. Among the various studies being done, the college is focused on food safety, food production and animal welfare.
With a business friendly climate and people who know how to produce sustainable, high quality agricultural commodities, food engineering, manufacturing and production companies such as General Advanced Foods, Hampton Farms, Bayer Crop Science and Corteva Agriscience determined Lubbock was the ideal place to grow.
For more about growing your company in Lubbock, visit lubbockeda.org/